Hello! Welcome back to me! Now I've shoved all that food nonsense over to another blog I can get on with some other things. Today's other things is Art. I loooooooooooove art. I'm sure most people do but I spent most of my time in school in the art block covered in paint and totally content. I miss painting but I'm always doing something else. One day, one wonderful day, I'll have a studio, instead of a trunk full of paint and paper and pens and half made installation pieces and pieces of canvas and wood and other things, and I'll draw and paint all the time. Ah dreams, you wickedly cruel things.
So, below are some of my personal faves for paintings that I think work in the home. Personally, I don't think all art works within a home environment, unless you have a particular style going. These, I think, are great options for anyone. Some are just pieces I love and can't afford/sold before I got there and then I tried really, really hard to buy it but the owner wouldn't budge.
Onwards.
Good places to find art – affordable art fairs (originals are not that affordable), etsy and saatchi art online. The online trawling through art can be a bit disheartening though. Best thing about Saatchi art and etsy is that you can get good quality prints of originals, the cheapest way of incorporating great art into your home.
This is one of my all time faves. I saw it at an affordable art fair and it was not affordable to me. It's by Stephen Read and it's called Clam Diggers. I prefer his 'new work' which has its own section on his site.
This is a piece I was willing to spend half of my savings on because I love it that much. In my mind it's Hayun Choi's most successful piece because she doesn't over-do the thread detail. It's a beautiful take on Vermeer's girl with a pearl earring. I recently emailed asking about some of her other pieces and to remind her that I'm here if she has any new work! Hayun is definitely someone to watch on the art scene.
I'm a little torn over this artist, I really like this piece but his others are well…. I'll let you decide. It's not his skill as an artist that's in question, although it does seem that he paints from photos.
This is my favourite piece by Patricia Derks – she just gets it. The colours would be fantastic in any room.
The White Lake would work well in a light and bright room.
Okay, had to leave the Saatchi site, I was getting lost in there. But, the good thing about it is you can search by colour, by style, by medium and by subject matter. Very useful if you have an idea of what you want.
A few years ago my sister bought me an Original Wall Penguin book of Cold Comfort Farm – a book that reminds me of our childhood. It was such a thoughtful gift and I absolutely love it. The books are framed really well and they also do comic books.
Not only do I want the framed Huntress comic book, I also really want to read it. She looks magnificent.
Another brilliant and obvious place to look is Tate's online shop. Love me some Tate. Don't be afraid to use good quality prints of famous work, if it's framed you won't look like you're in an artist's dorm room.
You can never go wrong with a Lowry.
Chagall, obvs.
Klee – I might get this one.
If you don't know much about art and you're scared of buying it, you cannot go wrong with buying something from the Tate site – I mean, these are the best artists evs. That being said, I'm not sure how a Whistler or Turner would look in print. Somethings are best as originals.
My screensaver at work is this painting by Hockney – I just feel so happy whenever I see it. For me, that's all art needs to do, make you feel happy. Also, the shape is great as it'll break up a wall gallery and stop it looking too uniform.
Jenny Prinn does gorgeous pieces that are really reasonably priced. Highly recommendo.
New Blood Art showcases new talent. I've selected a few.
A couple of people I know…
My godmother's daughter does incredible portraits on commission.
And Lottie does amazing illustrations (I already have some). Her shop is closed right now but I know she's been working hard on new material.
Now to my etsy finds…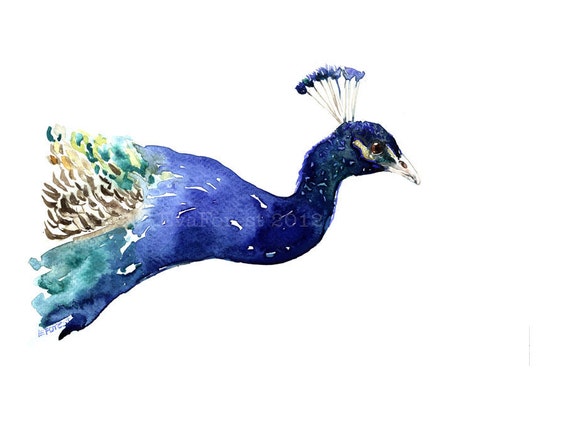 When I finally do our living room reveal (it's still not finished) you'll see that I love a peacock – I have a giant peacock I painted in gouache on our mantel. He's tremendous. This peacock floats my boat too.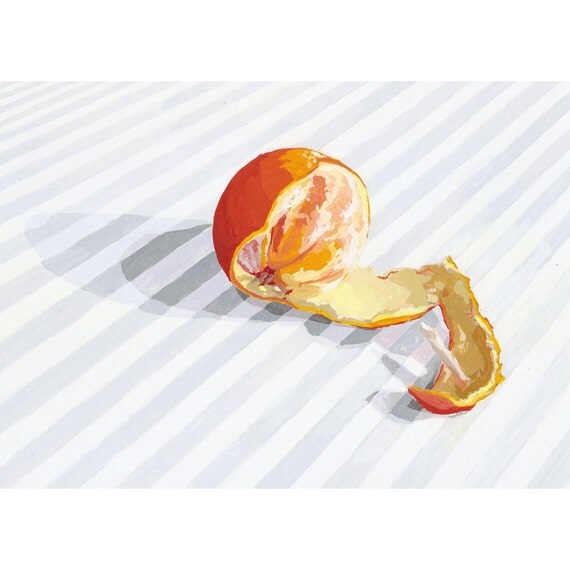 Fruit and stripes. Great combo.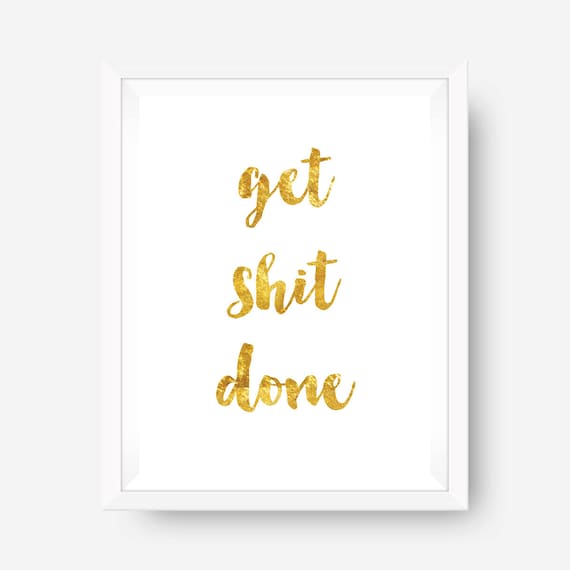 All offices need this print.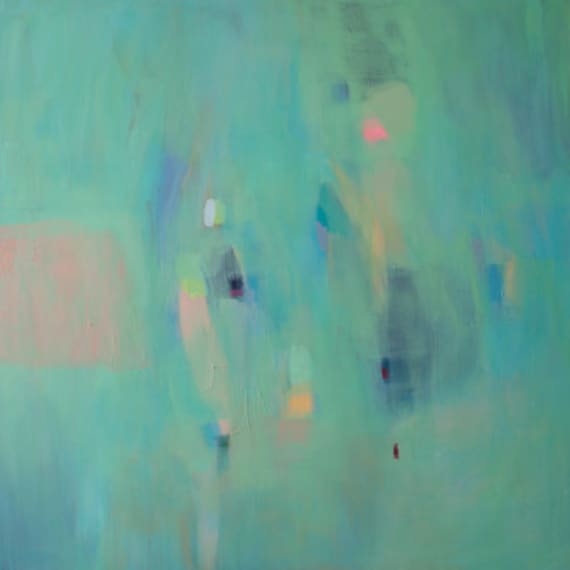 You've probably heard of Lola Donoghue because everyone seems to be talking about her. Her prints aren't cheap but they're definitely worth it. This one is on my Christmas list.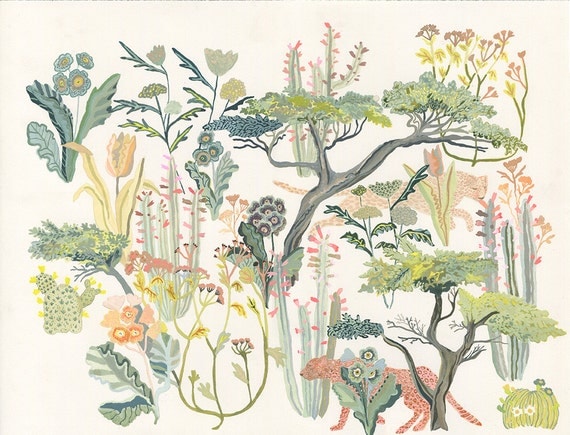 Michelle Morin sells originals and prints of her work. I just love her pieces.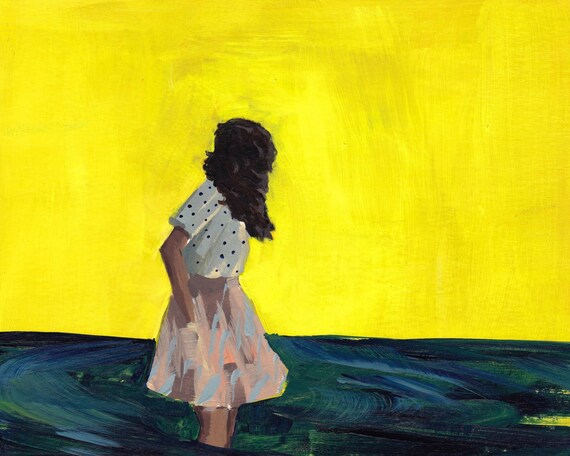 Another piece I'm thinking of buying by Clare Elsaesser.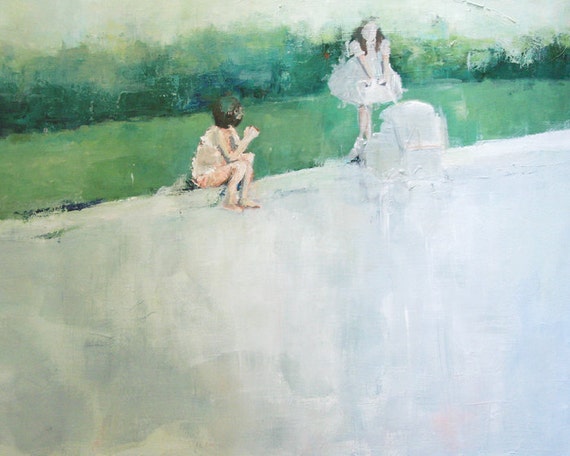 Lisa Golightly's art has a really lovely feel of childhood summer days.
Esty favourites: Art by Josie
Pinterest: Art
I hope this has helped in some way. Go fill thine walls with art!